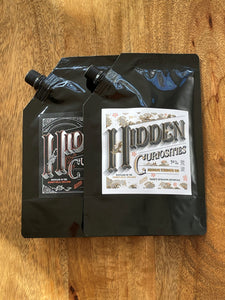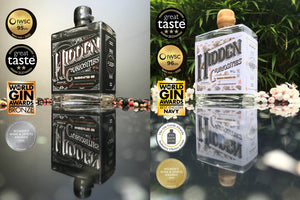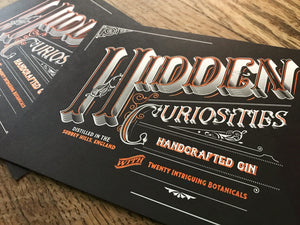 Hidden Curiosities x Aranami Strength Gin Sample Pouches
Regular price
Sale price
£20.00
Tax included.
Shipping
calculated at checkout.
---
2 x 100ml Pouches (Save £2)
Curious to try our award-winning gins, but unsure whether to commit to a whole bottle? We have the perfect solution.
Hidden Curiosities and Aranami Strength gins are now available in 100ml sample pouches. This gives you an opportunity to taste the gin neat, mix it into your favourite cocktail, or see how it stands in a Gin & Tonic without having to stock a whole bottle in your liquor cabinet.
Dip a toe into our award-winning craft gin without taking the plunge of a whole bottle. If you decide you like it (and we have every reason to think you will...), full bottles are always available.  
What's more, they're the same price as our gin miniatures, but with twice the volume of gin! Ideal for yourself, or for a fellow gin lover. 
Just like our refill pouches, these sample pouches are eco-friendly. They're recyclable (under code 7), and provide a reduced carbon footprint being lighter in weight. They also use a significantly smaller amount of plastic than conventional bottles, and result in less energy and waste during production too. 
Hidden Curiosities Gin Batch No. 8
We're excited to announce that our eagerly awaited Hidden Curiosities Gin Batch No. 8 is ready and available to buy now!

The new recipe, which Jenny has carefully tweaked for a brighter and livelier flavour profile, retains the heady depth and pepper-forward spiciness of Batch No. 7, while developing existing notes of yuzu and pink grapefruit.
You will also detect more Tahitian vanilla smoothness on the palate, along with delicate aromas of lavender and cardamom, all tied to an extra boost of piney juniper. While it feels like we say this every time - we think this might be the best batch yet!
Style: Aromatic London Dry
ABV: 42%
Size: 100ml Pouch
Tasting notes:
A complex, yet self-assured gin, featuring the fragrant spices of 5 distinctive peppercorns and green cardamom; inducing an aromatic warmth to the palate, discerningly balanced out with a cornucopia of bright citrus fruits; including Japanese yuzu, pink grapefruit, bergamot and lime. These assertive botanicals are softened with a sweet burst of white mulberries, curiously finished off with the delicate floral notes of violet and lavender.

How to Serve:
Hidden Curiosities gin is a true pleasure to drink neat; generously cascaded over ice, or with a splash of premium tonic to release more of the hidden botanicals.

Garnish:
We recommend two exceptional ways to garnish your Hidden Curiosities gin & tonic - reinforce the vibrant citrus elements with a twist of yuzu or pink grapefruit peel, or intensify the heat of the spices with a handful of pink peppercorns and green cardamom pods for a completely unique and incredible drinking experience.

Aranami Strength Gin
Aranami 荒波 - meaning "Raging Waves" in Japanese, is our powerful, albeit super silky smooth navy strength gin. At 59% ABV and bursting with flavour from 20 botanicals, (7 of which are specifically sourced from Japan), it really packs a punch just like the dragon emerging out of the tempestuous waters featured on the back of the bottle.

The bottle may appear demure with elegant cherry blossom scattered on the label, but this gin is certainly no delicate flower. Overflowing with citrus, pepper and floral notes with a beautifully long finish, this Aranami gin is sure to leave a lasting impression on your palate.
Style: Japanese Navy Strength Gin
ABV: 59%
Size: 100ml Pouch

Tasting notes:
Waves of bright citrus from Japanese yuzu, tingling spice from lemony sansho pepper, followed by mouthwatering marmalade notes from kabosu and kumquat. Sweetness from creamy Tahitian vanilla, Japanese sour plum and fragrant - almost candied-like - Furano Lavender (from Hokkaido, Japan). Rounded off with delicate herbaceous undertones from shiso leaf, softened and blended harmoniously together with salted cherry blossom.

How to Serve:
Try Aranami Navy Strength Gin neat first, then with ice, followed by a generous splash of premium Indian tonic to open it up and 'release the dragon' with a surge of mighty flavours. Jenny, the creator, recommends trying this in a Breakfast Martini with a dollop of Seville orange marmalade, or her favourite, a navy strength Salty Negroni.

Garnish:
There are three exceptional ways to garnish your Aranami Strength gin and tonic. Follow the sweet and sour route with sliced pear and a sprinkling of dried barberries, or why not try Japanese sour plum, strawberry, or golden kiwi. Be daring with a sensory experience of shiso leaf dusted with crushed sansho pepper, or stay simple and make the most of the gin's flavour profile with a zesty citrus twist.